Halo Live Wire
A simple podcast where we (Juice and Arc) talk about pretty much whatever we want to within the bounds of Halo 2. Sometimes we get distracted, but we'll stay in the realm of reason.
Sunday, February 26, 2006
Episode #3
Extra, extra! Read all about it! HLWaM out with their third episode! Its a good one... we talk about some good Halo 2 resources, and some great tips for the campaign mode's first 3 levels. Check it out!
- Download Here -
- Shownotes -
Sorry about the delay
Hey guys sorry about the delay on the next show we are recording today and should have it to you guys by late Monday night.

Thanks
~juice~

Friday, February 24, 2006
I'm back
Yes everyone I was gone on a great trip with my family. we wnet to Disneyland. and we stayed at the Paridise Peir. we went to the park for a few days and. and we went on soaring over Cal. and I ate the worlds biggest corndog.

Sneak Peek At Things To Come!
If you would be so kind as to direct your attention over to our...
- Audio -
and
- Video -
I think you will find it most good. Remember, it is a sneak peek, so whatever it is going to be in the future, it is not right now. Does that make sense? What I mean to say is that I'm not done working on it yet, but thought I would show you guys anyway.
=)
Wednesday, February 22, 2006
Down Time...
hello everyone,
in recent days, you may have noticed that there have not been many updates to the podcast or website in general. this is due to a number of things that i would like to now discuss.
*First off, Juice is having a wonderful time with his family at Disney Land. for those of you lucky, or unlucky i guess, enough to have experienced what he is going through right now, please go ahead and send him hate mail saying how envious you are of him. also, as you can imagine, it is fairly difficult to record a podcast while playing all day and sleeping as hard as you can at night, only to get up and repeat this vicious cycle once again for almost a week long.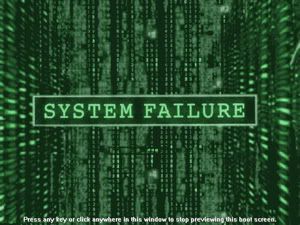 *Second, HLWaM is attempting to come up with a more fertile source for information to podcast on. true, we were able to get through two separate podcasts without having a main focus, or the focus that we had was not carried on to the next week. this is something we are now trying to amend, for we strongly believe that parrellel with our will to bring you listeners a good podcast should also exist good material and ideas to keep you both entertained and coming back for more. its a fairly simple concept, but i think it often gets taken for granted in the anticipation of beginning a brand new podcast.
so with that being said, go about your lives and please check back here every-so-often to see what and were we decide to go with this little monster that we have created for ourselves. also, that having been said, i would like to thank our current 15 listeners for their support. just knowing that someone is interested in what we have to say is very cool. thanx u guys
until next time
Gex~
post-script:
hey also, check it out
we are now on iTunes, the mother of all ... whatever it is they do. so head on over and subscribe and feel the sheer simplicity of having our podcast update automatically instead of manually
Monday, February 20, 2006
Special Treatment
ohhhh nice, that is if youv'e been good.
Iv'e gone crazy again and made a very bad techno song... it is very cliche and has a terrible ending, but it is decent. if you want to hear my take on what would be a better use of some artist's time, that they usually spend drinking instead of helping me make this decent, take a gander at what i call "Orf Wants It" ... ya baby!
- Orf Wants It -
Saturday, February 18, 2006
Episode #2
Quiet on the set, lights, roll camera, marker *snap*, "Hello everyone, and welcome to the second episode of Halo Live Wire and More. From everyone here, we hope you enjoy this one more than jam and toast, although our expectations are that the toast will win hands down."













- Download Here - - Shownotes -
Friday, February 17, 2006
Update
Hey guys we should have the new podcast up by Saturday night! It will take Gex a while to edit the session that we got done with last night, but it went really well. Hyrule Scout will not be with us, but we did manage to get Caboose and Spartan 1118 to help us out guest-hosting. WOOT WOOT!!!

Sunday, February 12, 2006
Episode #1
Hey heres our first episode!! YA YA


Podcast
Hey were starting a podcast!!
If you have any content about halo or other things xbox or xboxlive related..
send it to
juicefiftyseven@gmail.com
also if you want to be a guest host send me an e-mail!!
Host:juice57
Co-host1:MadGex
Co-host2:Hyrule Scout
Guesthost: will very week to week
Archives
February 2006 March 2006 April 2006 May 2006 June 2006 July 2006 August 2006 September 2006 January 2007