Halo Live Wire
A simple podcast where we (Juice and Arc) talk about pretty much whatever we want to within the bounds of Halo 2. Sometimes we get distracted, but we'll stay in the realm of reason.
Wednesday, March 29, 2006
MY new car
Hey everyone my family just got a new car.. YA YA YA!!!! It's a new GMC Yukon. It has leather seats, seat warmers, onstar, and best of all it has a power converter so i can play my xbox (not on live) in the car.
Sunday, March 26, 2006
New feature!
A new feature has been added to the site! There is a little display of all the recient news from the Halo community in the sidebar. If you cant see it, try
refreshing your browser
You can click on an article to view it on its main page, or if you want, you can click the link at the bottom labled "Read in Google Reader" to be taken to a page that lets you view all the news, and search through it. The reader only has Halo.Bungie.org and Bungie.net, but if you think there should be any other feeds added, post them, along with the feed address, in the comments, and we may add them.
Hopefully, this will hold you off till we get the new website set up. Good things are a coming.
Wednesday, March 22, 2006
Episode #4
Well after a long time, many attempts at recording and much pain and anguish editing, Ep 4 is finally here... there is a God after all. and he loves me. umm ya. haha well here's another great episode talking about the next 4 levels in Halo 2 Campaign Mode with guest host Paradox. Also, thanx Spartan 1118 for the Pod Art! enjoy you guys.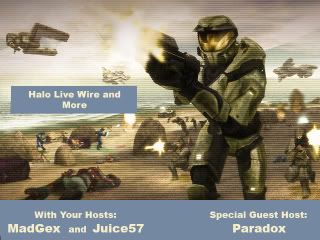 - Download Here -
- Shownotes -
Monday, March 20, 2006
Back in Action (or black... whatever)
hey guys, just thought id drop you a line here and say that my computer is back after about 10 days being fixed in Albuquerque. So anyway, things are rolling again, and we have episode 4 recorded and all thats left to do is edit it. Fortunantly everything went great during recording with myself, juice and guest host paradox... so you guys should be seening that very soon here. ahhh it is good to be back!

Monday, March 13, 2006
Stay subscribed
Hey everyone plese stay subscribed to our podcast. i'm sorry we haven't got a podcast out for a long time but gex's computer is still down and in the shop. We might get a show out this week but don't count on it. we will for sure have one by march 18.

thanks
~juice~

Wednesday, March 08, 2006
Gex's computer is still down
Hey everyone i talked with MadGex on monday and he said he wont have his computer back for close to 10 days..

Because of how many computers are at the shop getting fixed.. So i don't think we will have a podcast out for two weeks.

Thanks
~juice~

Friday, March 03, 2006
Gex's computer is down
Ya Ya I'ts sad gex's computer down so that means no podcast till he gets it fixed so everyone send him black mail him because he is holding up our podcast...

No really he blew he's power converter. but I mean he's a computer geek so cant he fix it himself. But he should have it back by Monday.

Thanks
~juice~

Archives
February 2006 March 2006 April 2006 May 2006 June 2006 July 2006 August 2006 September 2006 January 2007